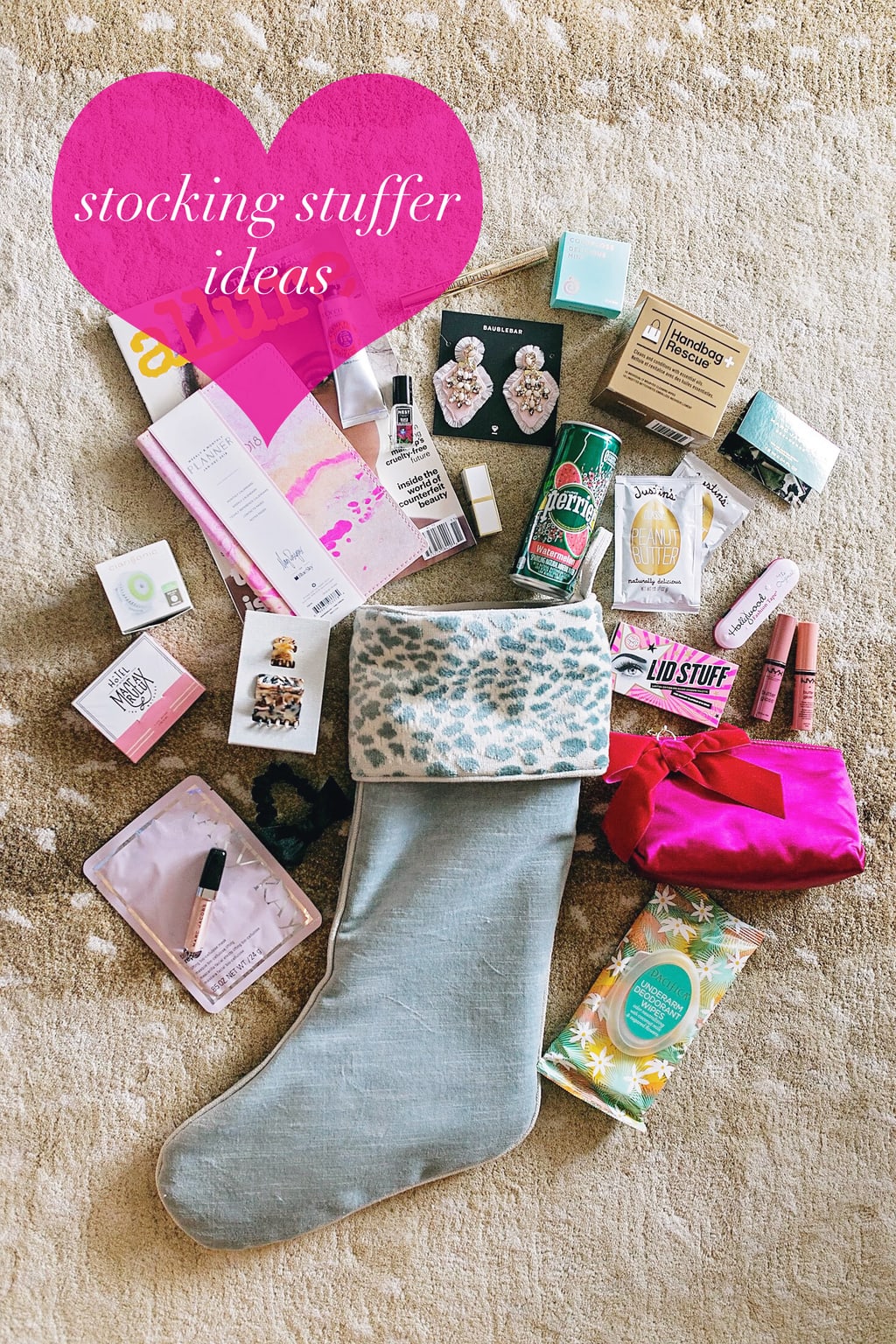 Oh stocking stuffers! I find these to be so much fun. I really enjoy shopping for stocking stuffers because I feel like you don't have to get yourself all frazzled on finding the perfect gift. You can find a stocking stuffer for 50 cents that is just as fabulous as a stocking stuffer for 50 dollars. And who doesn't love a small little treat?! I've actually heard of groups of girlfriends doing "stocking stuffer parties" over the holidays where you come with one stocking stuffer under $5 or $10 and then everyone swaps and comes home with a little gift. Isn't that a great idea?! I'm not sure why we all adore stocking stuffers, but it's probably because they are the little "happies" of life. From a great floss to peanut butter pouches or even an eyeshadow palette, here are my favorite stocking stuffers to gift friends and my family! The best part about this post? A ton of these items I was able to grab at Target so it makes it easy for you! Also, I want to note that these are a lot of stocking stuffers! It's definitely not realistic to have this many in a stocking, but I wanted to give a variety of ideas so that you could pick and choose what works best for your family!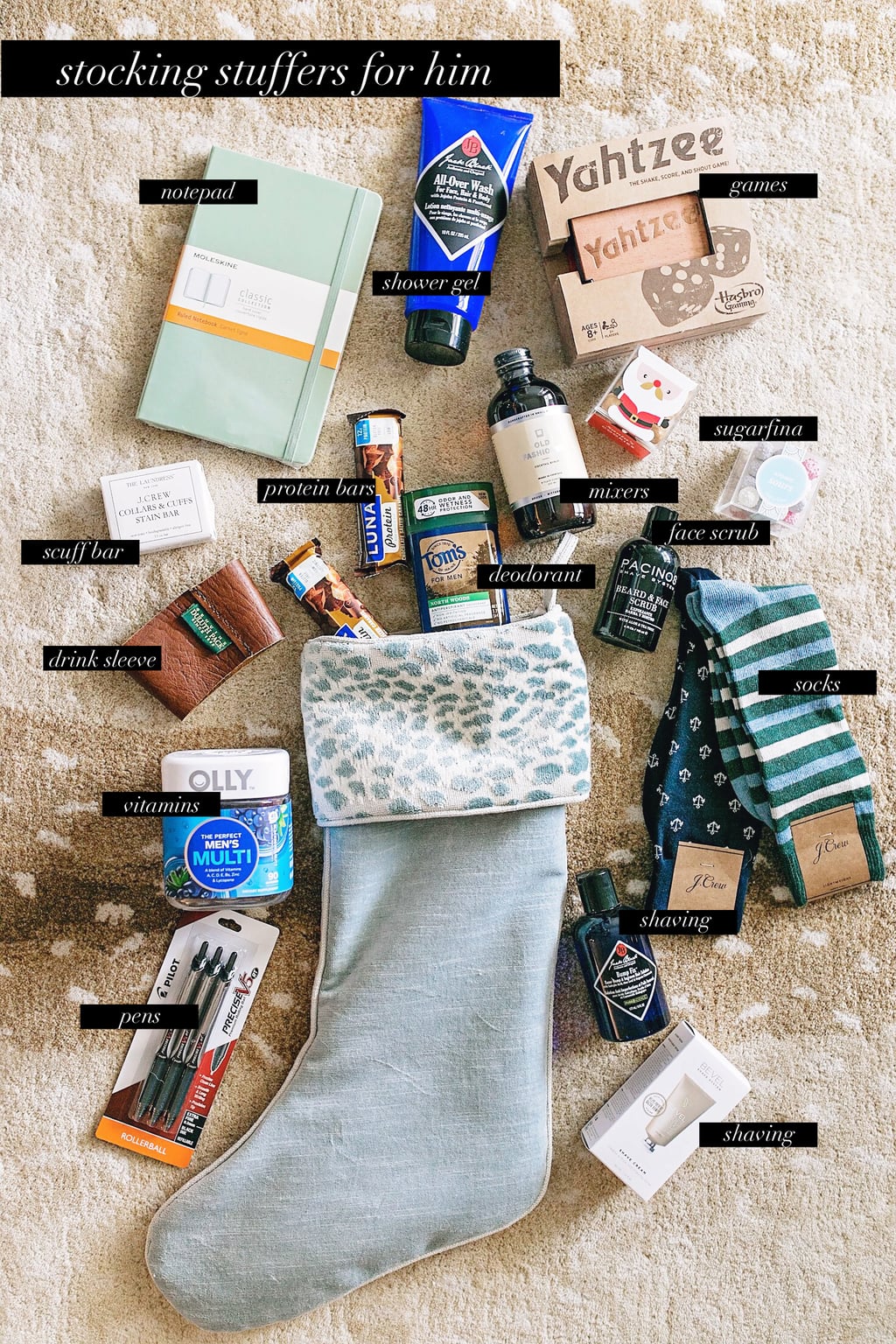 Stocking Stuffers For Him
Shop Stocking Stuffers For Your Guy

---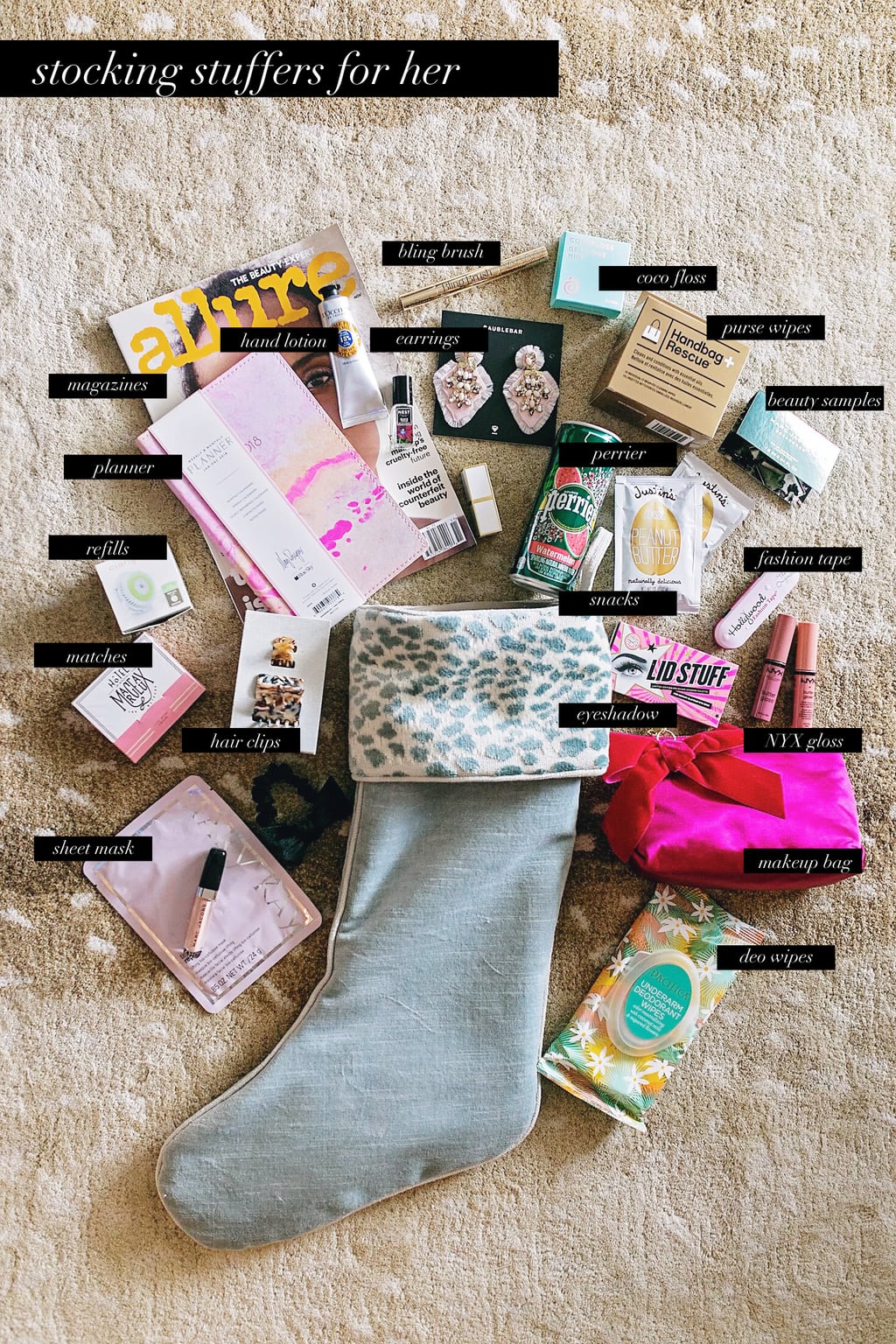 Stocking Stuffers for Her
Bling Brush: I reviewed this brush ages ago on the blog and still keep a million on hand! These clean your wedding rings [or other jewels] in a flash. They are the perfect size for your purse.
Hand Lotion: My favorite brands of hand lotion are L'Occitane, TULA and Beautycounter.
Magazines: Grab Allure for your beauty-obsessed friend, a bridal magazine for a bride-to-be or a recipe magazine for your friend that loves meal prep.
Planner: Target has the cutest pink planners right now! From $9-$12 these make great little gifts for the Type A girl in your life.
Beauty Refills: Beauty refills are perfect stocking stuffers! Whether a girl needs Venus razor cartridges or Clarisonic brush heads, she'll appreciate she doesn't have to grab these during her next Ulta trip.
Matches: Y'all always ask about the matches in my home, and I would say 95% were gifts from friends. Anthropologie has really cute matches this season.
Hair clips: All. The. Hair. Supplies. We are always looking for a hair clip, bobbi pin or ponytail holder right?!
Sheet Masks: Being a blogger I have tested a million sheet masks. These Mary Kay TimeWise Repair ones are LEGIT. You take it off and your face feels like you just got a 4 hour facial. I honestly use these in the mornings and then apply my makeup because it perfectly primes my skin. You could buy the pack and then gift one sheet mask to each of your friends and wrap them up in cellophane with a bow.
Deodorant Wipes: I review these here. You'll never workout without them again!
Makeup Bag: I grabbed this velvet bag for a gift at Ann Taylor. I love the bow and that this isn't a structured bag. Sometimes structured makeup bags are hard to fit in a purse or diaper bag, so you don't have an issue with this one!
NYX Glosses: I've tried $50 lip glosses, I've tried $20 lip glosses. My favorite lip glosses are always NYX Butter Glosses. I've reviewed them a lot on the blog so pick up a few at the drugstore next time!
Eyeshadow: This palette was a Target and I've loved it the past few weeks! It's a really great size if your girlfriend uses a makeup bag and can't have a massive eyeshadow palette on her vanity. I will note this isn't overly pigmented, but that's perfect for most girls!
Fashion Tape: Fashion tape is your BFF that hides your bra strap, keeps a collar in place, holds a strapless dress up. You name it, fashion tape does it. This is a great stocking stuffer and you can normally find this at Target or a drugstore!
Snacks: I LOVE Justin's peanut butter pouches. I keep them in my diaper bag and can eat them on the go if I'm starving. These are also nice to have and you can put half in a smoothie, etc. They make great stocking stuffers for a girl to keep in her purse.
Perrier: Being the ex-Whole 30-er that I am, I've tried every flavor of sparkling water on the market. Do we pretend to like it? Do we actually adore it? I don't even know, but I keep buying it. However, I will say that the Perrier Watermelon flavor is the best. THE best. It tastes like the most refreshing drink you would get on the beach, but not bad for you! Grab a pack, and toss some in some stockings.
Beauty Samples: Do not toss your beauty samples! You may not want to test a perfume, but these are great for Christmas! I keep a box with all my beauty samples throughout the year. What I don't use, I use for gifts! Tie a little pouch of perfumes around a bow on a gift. Throw some samples in stockings. From mini lip glosses to purse-sized mascara, any girl would appreciate them.
Purse Wipes: Being a style blogger, I do need to tell you that you should clean your handbags per the designer's instructions. However, I love these handbag wipes! They used to be sold at The Container Store, but I recently found them at Target. I switch out my handbags a lot more now that I'm a mom. My purse really depends on what we are doing for the day/which diaper bag I'm taking [I have a regular one and backpack for travel]. Once a week, I'll take one of these wipes and wipe down the bag I was using. I really think this keeps them in great shape because with at least 4 blog shoots a week, I'm a bit harder on my purses than one normally would be.
Earrings: Baublebar has some fabulous little earring gifts this season. I personally prefer these, these and these.
Coco Floss: A reader introduced me to this floss earlier this year! There is coconut oil in this floss and I couldn't tell you what it does, but it's the only floss I use now. I HATE flossing. It hurts and my gums bleed. Autoimmune disorders cause your gums to bleed even if they are in fine shape. A reader knew that and told me about this floss. It's wonderful! My gums don't bleed ever using it and it comes in a ton of different flavors. I order them in bulk online, but I also saw them at Anthropologie over the weekend.
Shop Stocking Stuffers For Her

---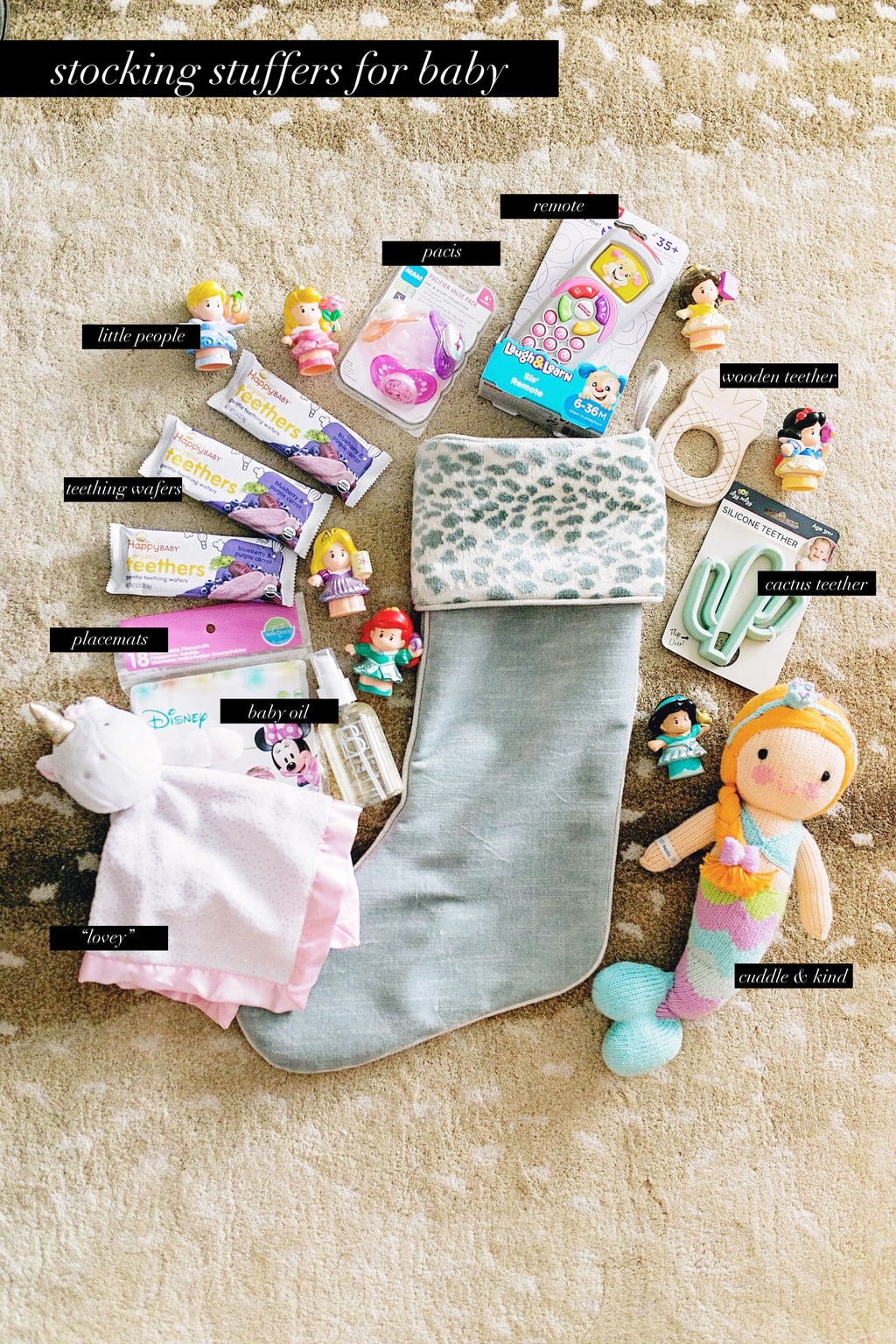 Stocking Stuffers for Baby
Shop Stocking Stuffers for Baby

---
Forward this post to your husbands, your mamas or your besties! I hope some of y'all find ideas to make this stocking stuffer business stress free and fun! Thank you so much for reading and don't forget to check the Holiday Gifts tab at the top of the blog. There you'll find some of my favorite gifts along with each gift guide of the season.