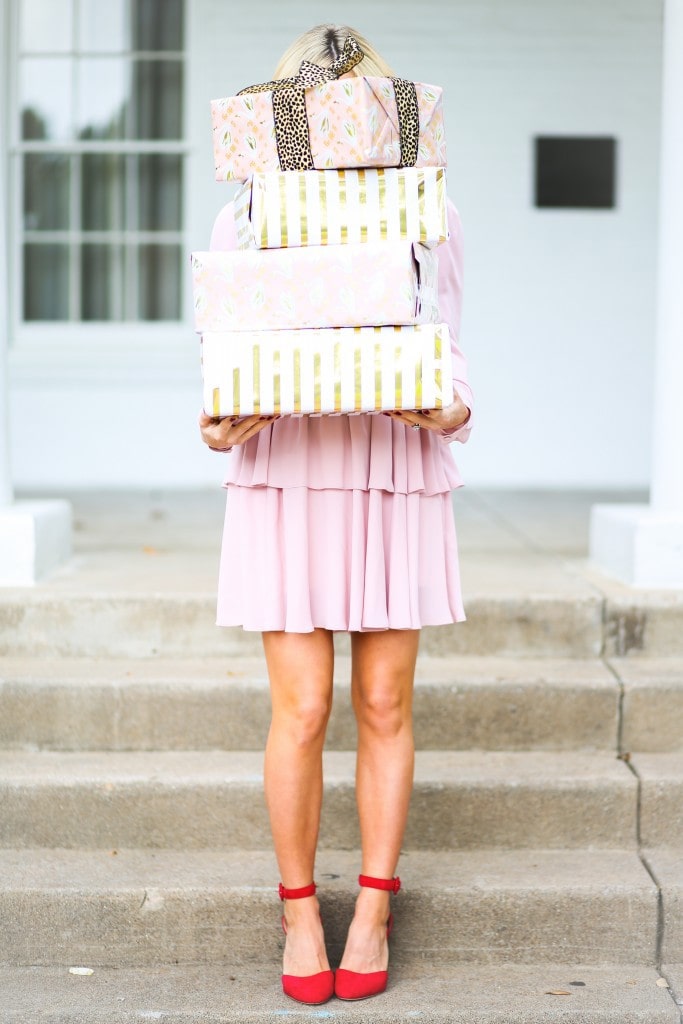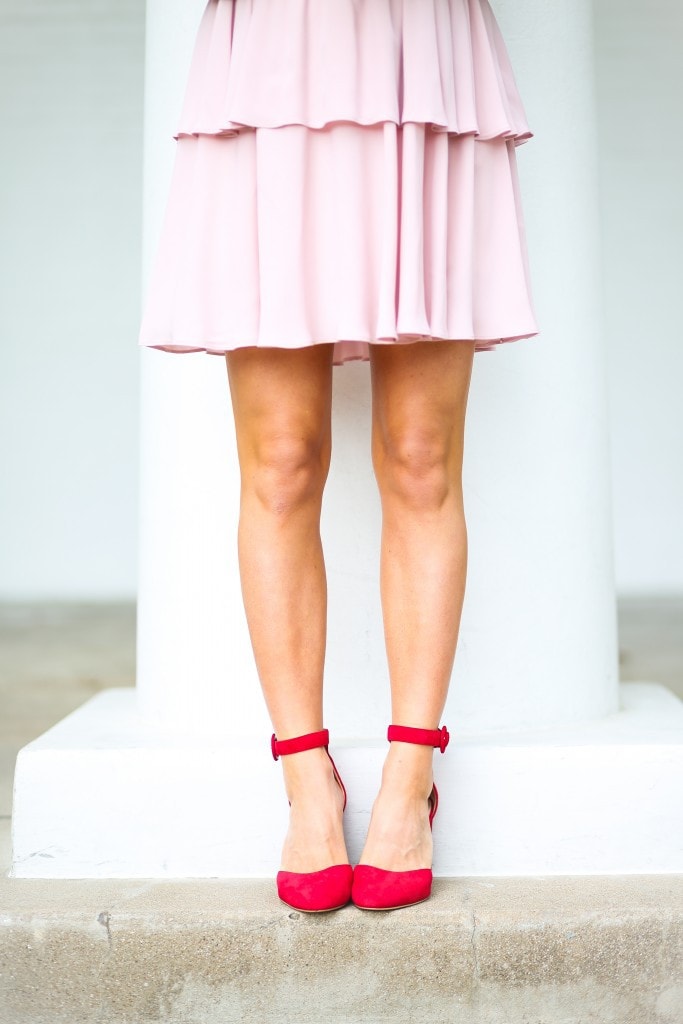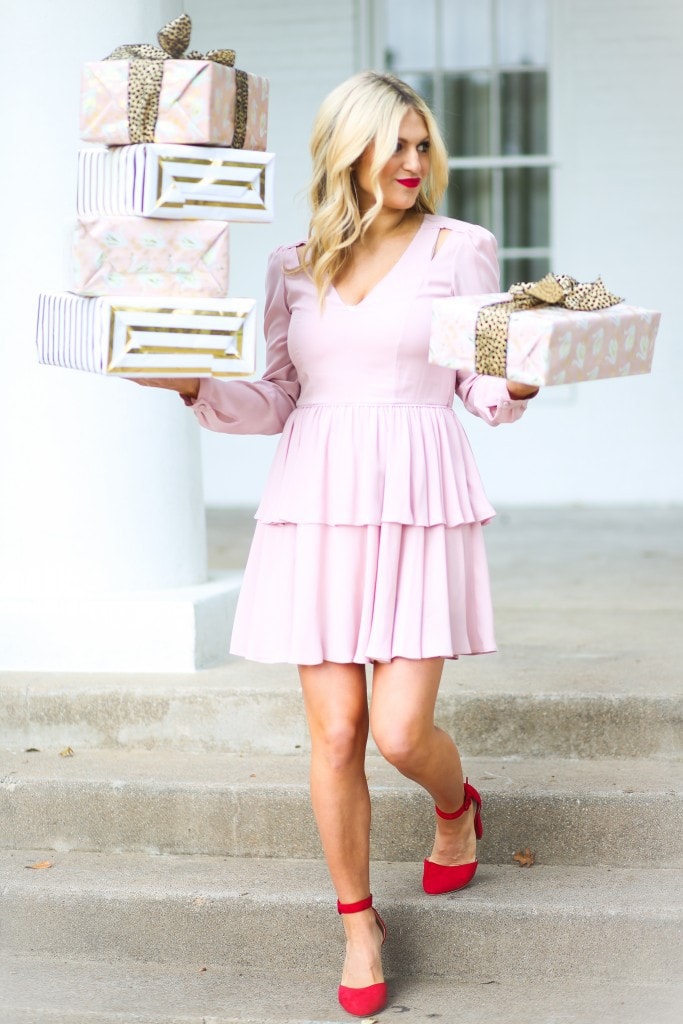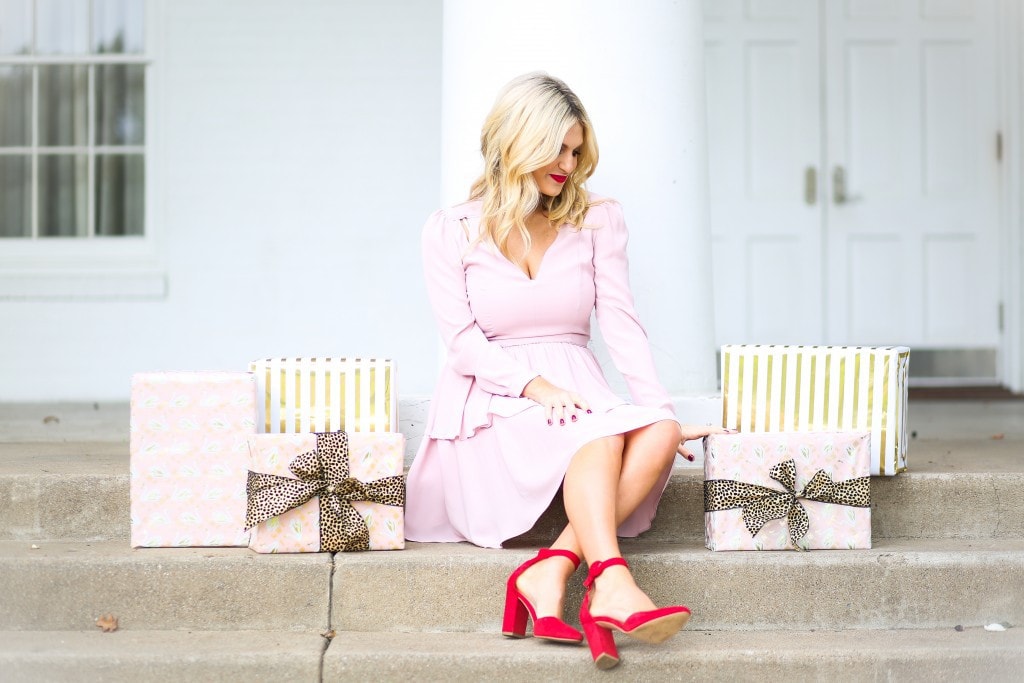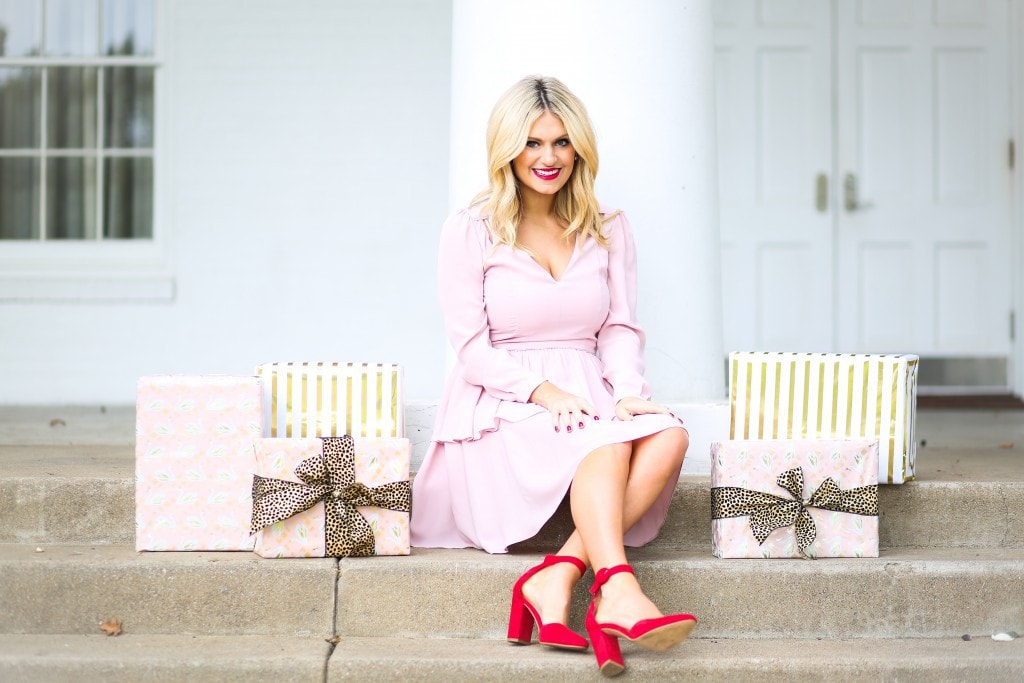 Dress: Rebecca Minkoff, Similar | Shoes: Nordstrom, Identical Option in Red | Lips: MAC Ruby Woo
Photography by: Hailey Hallum
---
You know that questionnaire floating around on Facebook about your spouse? The one you secretly take but don't post as your status because you would neverrrrr do that. It says something along the lines of: "Without prompting ask your spouse to answer the following questions."
We were laying down the other night and I whipped my phone out, shut out all shame and asked him the questions. The first question was: "What makes me happy?"
Paul immediately said, "Cleaning, getting organized and spending time with family."
He knows me far too well! And that answer is EXACTLY why Black Friday is one of my favorite days of the year!
1. I finish up all my Christmas shopping on Black Friday [online thank you very much, this pregnant chick does not get out and about post mashed potato coma] which makes me feel so organized. And anything that makes me feel productive in my pi's is as good as gold to me. Paul and I wake up, drink coffee, make cinnamon rolls and I finish up my shopping before 9 or 10.
2. Then we always get ready and go to lunch and the movies with my family. My sister's boyfriend is tagging along this year and I'm SO excited to ask him questions. haha. He is really such a sweet guy and my sister is probably mortified I'm even sharing that with you all- but don't worry I DID ask her if I could write this in the post. I was joking with Paul about what I want to ask him. The top thing that came to mind was, "On a scale of 1-10 how pretty is my sister?"
Paul said, "Well what do you want him to answer?"
I said, "I have no clue. If he says 10 that is cliché, anything less is just not okay and anything above means he thinks she is too pretty and I need to third wheel all their dates!"
Totally kidding, but I'm excited for all of us to spend the day together! And whatever number he says is totally fine by me because he does things like wear matching pug shirts with her to school retreats [my sister has a pug obsession] and ask to get out of class to go watch her cross country meets. Is that not the sweetest?! Boys I went on dates with in high school did NOT do that….
So between finishing up all my shopping and spending all day with family it's quite the way to end Thanksgiving week in my book! Below are my favorite sales that you don't want to miss and stay tuned all the way to the bottom of the post so you can enter to win a Louis Vuitton wallet I'm giving away to a reader!

30% off site wide & in store with code: THANKFUL30
I got one of my bridal shower dresses from ASOS this week, love this maternity option and I'm pairing it with these velvet pink shoes!

30% off purchases with code: THANKS30
See close up photos of my Baublebar monogrammed necklace here. I have it on a 16″ chain!

50% off site wide
See my favorite Express workwear here!

40% off everything with code: F40BLF

20% off site wide with code: HOLIDAY20
Lots of Furbish Studio goodies in this post here!

20% off ALL products & FREE makeup bag AND lipstick holder with any purchase of makeup GLAMbox with code: BF2016
See my GLAMbox with makeup here and my GLAMbox for jewelry here!

30% off curated category with code: STUFFED

Up to 30% off!
Don't forget your pups! See Peaches' favorite things from Henri Bendel here!

40% off your entire purchase [wow!] with code: HOLIDAY

Surprise sale up to 75% off here!

20% off everything with code: SALE20

30% off everything with code: SPARKLE

30% off everything with code: MERRY30
See a few of my favorite Moon & Lola pieces here!

Black Friday savings here!
This sweater is on sale and see how I styled it here!

Spend $200+, get 15% off; Spend $500+, get 20% off; Spend $800+, get 25% off with code: GOBIG16
This Diet Coke sweatshirt is my favorite and I styled it here!

30% off purchases of $250 or more with code: THANKS
The all leather version of my most recent Tory Burch bag is on sale here, see how I styled it here!

25% off site wide & free shipping with code: KATEYHOLIDAY25
See my TULA Q&A post here!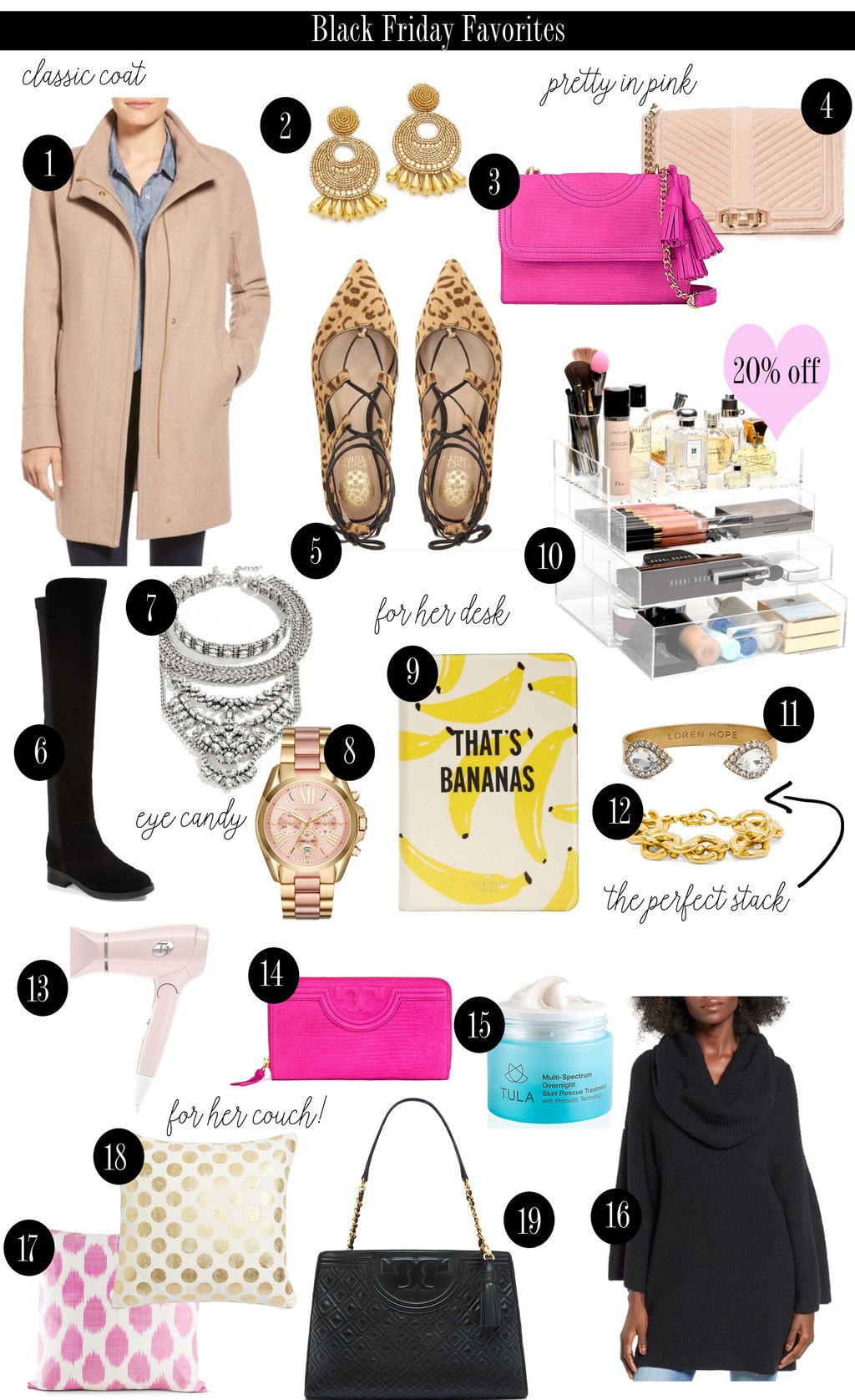 1 | 2 | 3 | 4 | 5 | 6 | 7 | 8 | 9 | 10 | 11 | 12 | 13 | 14 | 15 | 16 | 17 | 18 | 19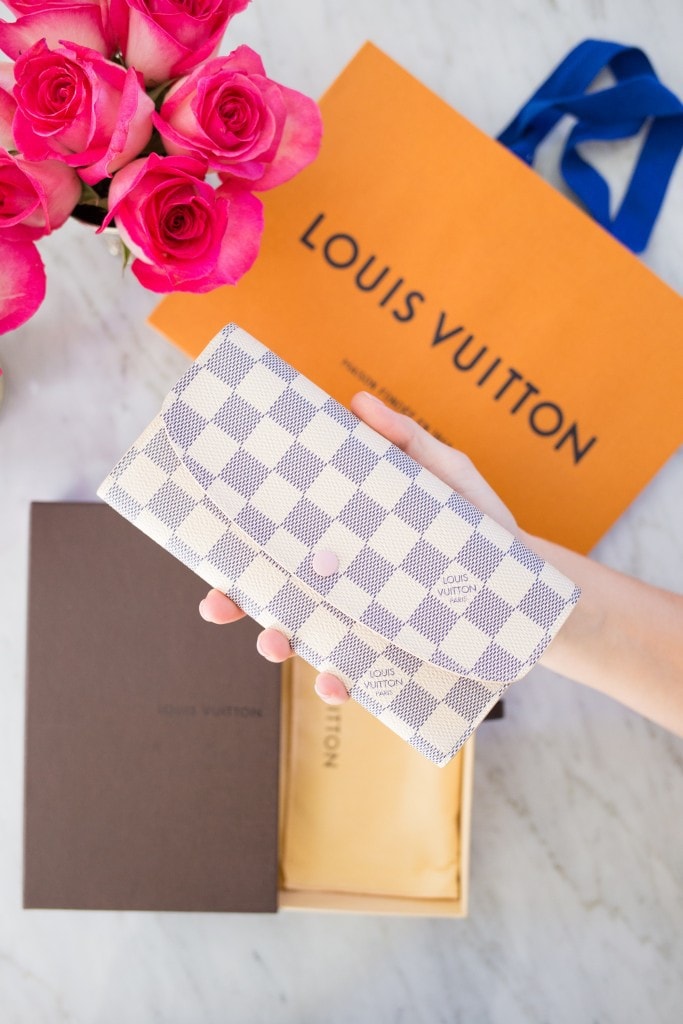 To say thank you for reading my blog I wanted to giveaway a Louis Vuitton wallet! This is the Damier Azur Emilie Wallet in Rose Ballerine. Enter below to win! Winner will be announced on the blog Monday!
Happy shopping!!