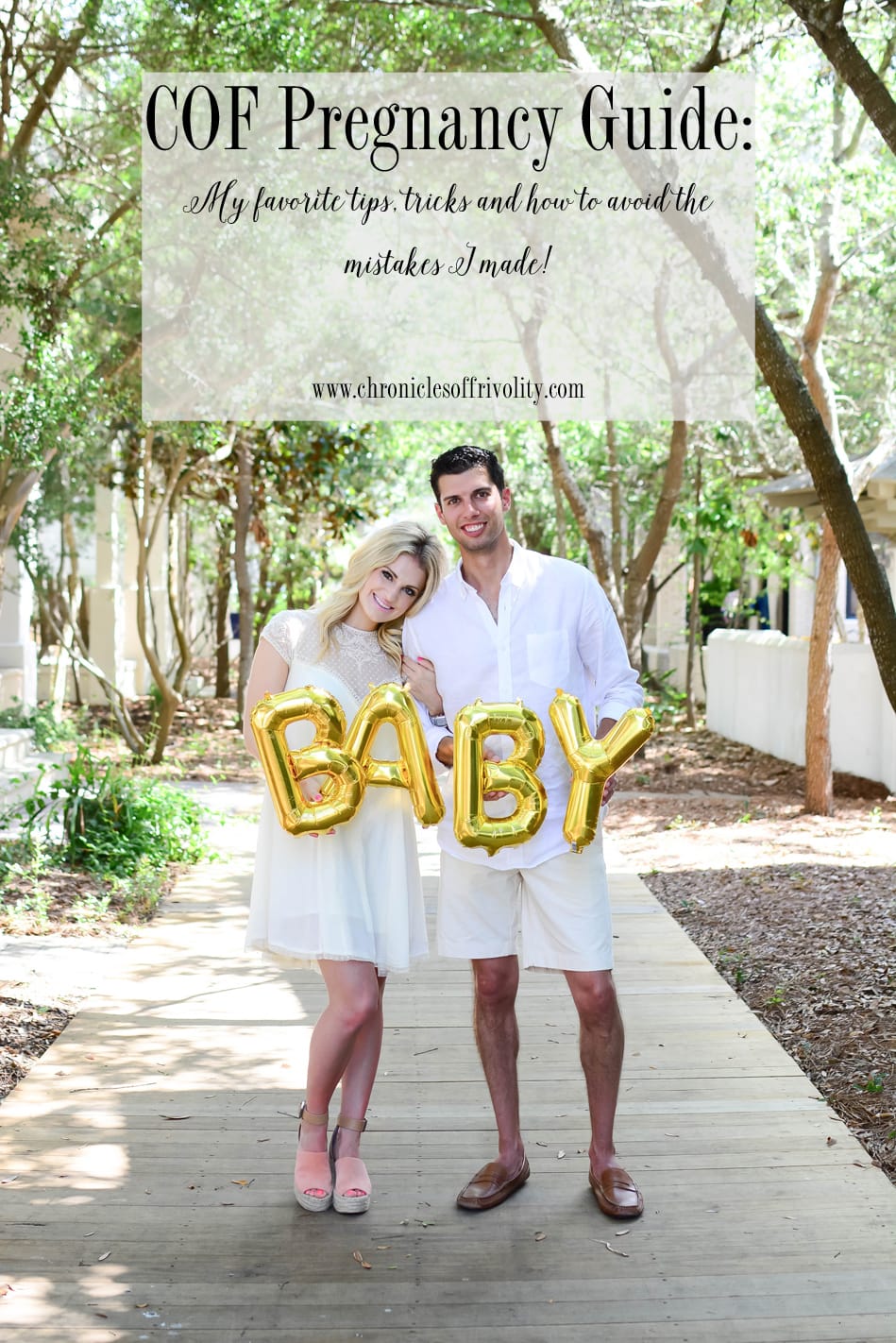 Pregnancy is such an exciting time as you prepare for your little one and celebrate milestones in their development and growth. I wanted to share a few of the things that helped me, mistakes I made and best tricks I learned throughout this incredible experience. But by no means do I want you to feel like you need to follow this!
Every pregnancy is different. Every woman is different. Every doctor is different. And therefore, all of our opinions on "what helps" will be different. So take my tricks with a grain of salt. Take your girlfriends' tricks with a grain of salt. And certainly take internet tips with a grain of salt. Don't stress out because your body will know just how to grow this baby and everything your baby needs. This guide is just my own personal guide, what I followed, what my doctor wanted me to follow and what I needed to do. You'll know what you should do so I'm sharing this more so if you're curious as to what I did during each trimester to prepare for her arrival!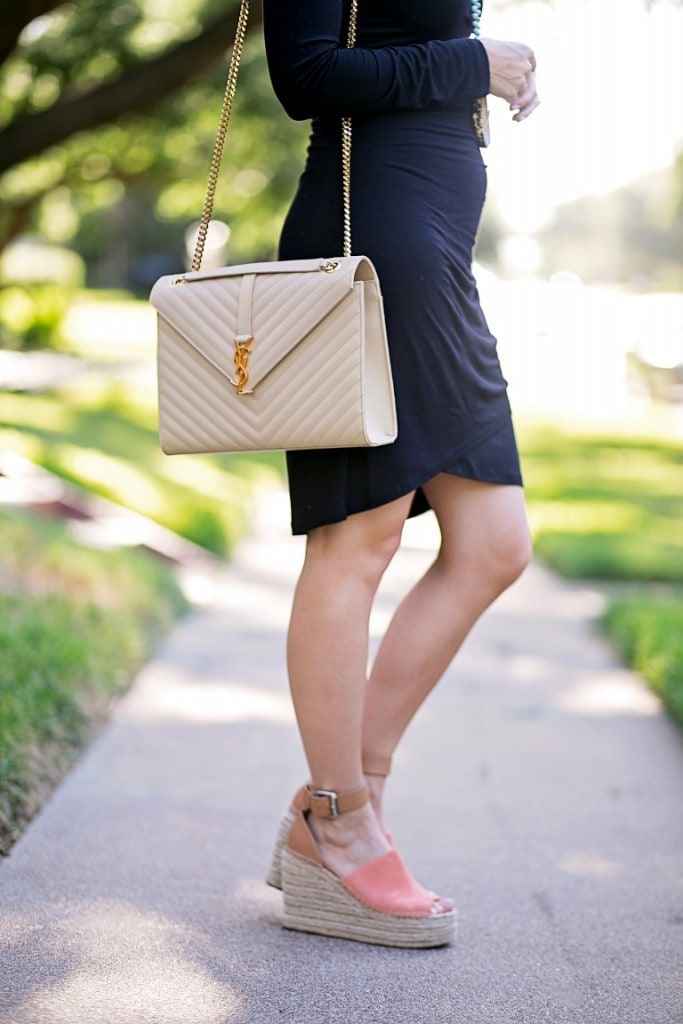 FIRST TRIMESTER: WEEKS 1-12
---
1. How I Felt
I found out I was pregnant extremely early! I think I found out at 4 weeks [read how I found out here!] and I was so giddy I couldn't wait to have symptoms! I think that's a pretty normal feeling with first-time moms. I remember I would text all my girlfriends that were moms and I kept asking, "Okay, when do I get symptoms?!" My morning sickness started at week 6 and lasted until about week 26 or 28. It came back a bit at the end, but I think that was my body preparing for labor. The worst of my morning sickness was week 9-12 and my doctor said that's pretty common with most women in case you are curious. My biggest tip is to carry these bags in your car. If you follow the wives' tales of pregnancy, I fit "girl symptoms" to a tee, except my first trimester I didn't want to be around sweets. However, that quickly changed! I also slept a lot during my first trimester. I couldn't get enough sleep! We would go to church and get home at noon, then I would sleep until 7:30, get up, eat dinner and be back in bed by 9. Your body is completely thrown off with all new hormones and trying to grow all of your baby's organs and systems, so give yourself as much slack as you can in the sleep department. Of course, if you're taking care of a little one at home you aren't able to sleep as much as a first-time mom, but I've heard second-time moms know how to navigate the symptoms much better!
2. Favorite Products
There are a ton of ginger candies on the market like preggie pops and lozenges to suck on to help combat nausea. Those did nothing for me, but try them as they might help you! Seabands are another recommended product for moms with morning sickness. They helped one of my girlfriends tremendously, but sadly they didn't do anything for me either. You can also try peppermint tea! Another trick is to sniff a lemon whenever possible and put it in your water! I loved lemons my first trimester and I think that helped a little bit. My favorite foods to combat nausea were: saltines, dry cereal, toast and ginger ale. My mom's OB told her fruit loops are the best cereal to combat morning sickness. I'm not sure if that's true or not, but that's what I ate! At the end my doctor ended up prescribing me Diclegis and that's what I took until I delivered.
Here are the beauty products I tried my first trimester.
Lastly, I stocked up on comfy clothes my first trimester. I slept so much during that time and I knew with all the nausea and vomiting I just wanted to be comfortable when I was at home. This brand was my favorite for lazy days.

3. What I Did
I made my first prenatal appointment. I called the day after I found out I was pregnant to schedule. If the doctor you've been seeing isn't your favorite, don't feel timid to shop around. You may want a midwife or an OB depending upon your concerns and how you want your pregnancy and birth to be. I stayed with my doctor but a lot of women do find a different one. You'll also cut out specific medications depending upon your health history for your pregnancy.
I started to take a prenatal vitamin as prescribed by my OB. You'll be at your OB quite frequently those first few weeks with blood tests, your first sonogram and appointments. Mine gave me a sample of four to try and I just picked the ones I liked best. However, if you don't want prescription I also tried the Honest Brand while traveling and loved them! They didn't make me nauseous and they almost have a vanilla aftertaste which helps when you feel sick.
I made an appointment with my dermatologist to go over if my skincare products were safe for pregnancy. I also had my OB approve. The biggest beauty things I cut out while pregnant were spray tans, intensive skincare products [anti-aging, etc.], I didn't color my hair my first trimester and I didn't get "traditional" pedicures until I was 36 weeks. I had heard you have specific pressure points on your feet that can induce labor, so I just would ask for polish changes. However, my OB said manicures and pedicures were completely fine, so definitely ask what yours is comfortable with you doing.
I started to read Bringing Up Bebe, I downloaded the Ovia app [my favorite pregnancy app!] and I started to journal and document my pregnancy in this.
I cut out specific foods from my diet. Your OB will most likely give you a pamphlet of what he or she doesn't want you to eat as mine did. Some moms are comfortable eating these foods, some aren't! I personally cut out: caffeine, lunch meat, unpasteurized cheese, queso at restaurants, cookie dough, seafood [I couldn't personally eat it while pregnant, it made me sick], unpasteurized juice, raw sprouts and over easy eggs. But always take this with a grain of salt as well! I know some doctor's tell women it is fine to have XYZ and some doctor's say to steer clear. I 100% believe that as a mom you know what is best for your body and your baby, so you do whatever you feel is comfortable! 🙂
I started to drink 100 ounces of water a day. Here is how I incorporated more water.
I purchased a pregnancy pillow, but I hated that thing my entire pregnancy. However, I recommend trying one out because I have girlfriends that still sleep with theirs after they gave birth! haha. They loved them so much!
I picked up a few new bras, this post shares my favorites and a trick for nursing bras.
I shared the news with family and friends!
I slowly started to tell people I worked with that needed to know. Blog campaigns can be booked out a year in advance so I needed to tell brands and change my contracts to cater towards our due date. Remember when I went to NYC back in July? That's why I was there! I had a lot to change and renegotiate. This will be different for everyone depending on work, but it's a good time to start thinking about your maternity leave, options your company provides as well as your spouse's time off work. You definitely can tell work whenever you want, I just started to by 12 weeks. I also work from home so we didn't have to think of childcare, but if you work out of the home this would be a great time to start browsing around for options.
4. Mistakes I Made
I think the first trimester is so special because not everyone in our life knew and it was just such an exciting time for Paul and I. There also typically isn't a huge to-do list your first trimester so our weekends were filled with lots of sleepy Saturday afternoons and Paul was so great at helping me through morning sickness. He held my hair every time in the bathroom and would just rub my back. But because not everyone knew, I was also googling like crazy. I had originally downloaded the "What to Expect" app and I was reading the forums daily. That was my biggest mistake! Comparing your pregnancy to a stranger's isn't healthy because you don't know their medical background or their experience. I ended up deleting the app because it wasn't healthy to just read for hours and get nervous that I was doing something wrong.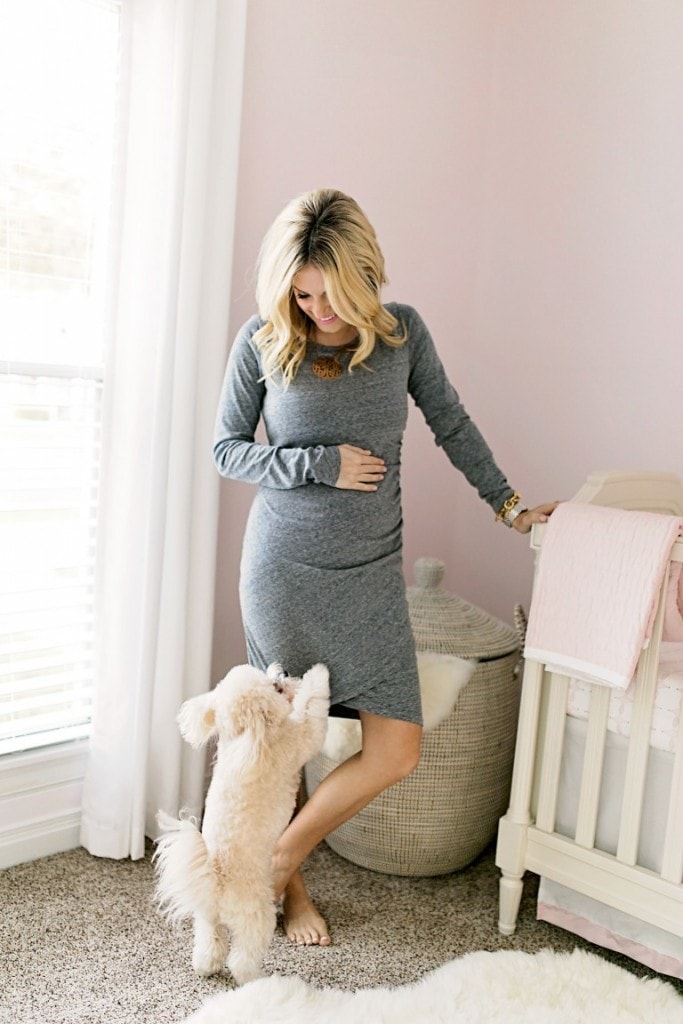 SECOND TRIMESTER: WEEKS 13-27
---
1. How I Felt
While I did have morning sickness throughout my second trimester, it wasn't nearly as intense so I felt really great! This is typically called the "honeymoon phase" of pregnancy. I slept great, my symptoms were manageable and I had a really steady stream of energy. I did start to get heartburn and oddly enough I found that a glass of chocolate milk helped more than TUMS. My cravings definitely picked up my second trimester and my sweet tooth started. I was able to exercise more [here was what I did!] consistently my second trimester because I wasn't constantly sick. I felt her move at about week 21. Most moms do feel babies move sooner, I just had an anterior placenta so it took a little longer!
2. Favorite Products
My mom got us this Prada diaper bag as a gift at the end of my first trimester, so I'll count it as a second trimester favorite! I loved that it is easily wipeable, gender neutral and isn't "just" a diaper bag. This can be used as a travel bag later on and for future babies since it is just black! Here is an in-depth review at my bag.
I started to stock up on comfortable dresses with stretchy material. Maternity clothes can be so expensive and so I wanted to not go crazy and just blow a budget on them. These dresses by Michael Stars are amazing because they have ruched sides that stretch as your bump grows!
My second trimester I started to add more products to my bump to help it stretch and my skin not itch. I used traditional coconut oil, Burt's Bee's Belly Butter, Belli Oil and Bio Oil.
I got a pillow to help me sleep on my side. They say side sleeping is best for blood flow to baby, so if it's difficult for you a pillow can definitely help!
3. What I Did
We found out we were having a girl at the beginning of the second trimester, so I started to plan her nursery! If you're ordering furniture online, start to think of what you want based on boy or girl so you can order when you find out you are pregnant. Because like all furniture deliveries, things get delayed and nothing in the nursery was completely finalized until about 4 weeks before she arrived.
We chose her Godparents and asked them if they would do us the honor of playing that role in her life.
I started to track my bump with weekly iPhone pictures. I didn't do a specific look or anything as some women do chalkboards. I kept it pretty simple, and just took mirror selfies. haha!
I started our baby registry. We registered through Baby List, which I loved! You can essentially register for anything from any store and not have to go out in public to do it. I followed guides from online but really just catered it to what we used most. These are a few of my favorite products we received/purchased: 1, 2, 3, 4, 5. I'll also do a new-mom necessity post later on so you can see what products we use most for your registry.
I signed up for our birthing class, breastfeeding class, hospital tour, and baby safety/CPR class. These weren't taken until our 3rd trimester, but we went ahead and signed up and you can take these as early as you want!
I scheduled her newborn portrait session and a first 48 photo session. A first 48 is when a photographer comes to the hospital after you deliver [normally the day after] and gets little shots of baby and mom and dad together.
We had our anatomy ultrasound which was my favorite doctor's appointment throughout the pregnancy. We got to see her a lot on the ultrasound and I could finally make out her body. It was also incredible seeing her heart pumping and her organs functioning on screen. One of those moments I was just so overwhelmed by our detailed our God is!
We already knew our baby names from before we got pregnant, but we finalized her middle name.
I made my first maternity purchase! It was so much fun to take that day and go shopping with Paul at a maternity store. I got maternity jeans and these were my favorites.
We made a to-do list of projects we wanted to finish around the house and baby-proofing hacks we needed to do.
We ordered our breast pump.
I researched pediatricians, found the one I liked best, interviewed her and asked for a list of reading she recommended for our baby.
I read the books she recommended.
We didn't take a babymoon due to our schedules, but we did go to NYC together for fashion week and we celebrated there! We went on date nights every night and had a lot of time together. I skipped out on a lot of events just to hang out with Paul and I never regretted it! They say to go on a ton of dates during your third trimester, but I really recommend doing this as much as you can your second trimester. It was the trimester that I felt the best, so we were able to have really long dinners and enjoy quality time.
We started on the nursery! My dad painted it while we were in NYC for fashion week and then we started to put items together as they arrived. We went with Valspar Fair Madden for the paint color.
I started to get Peaches used to baby sounds. I'd play Youtube videos of a baby crying to see how she would react and when my friends would bring their babies over I wouldn't put her up, I'd just hold her and let her sniff them so she started to become more comfortable with little ones.
4. Mistakes I Made
The biggest mistake I made second trimester was with my pregnancy jeans! haha. I know that sounds silly, but it was SUCH a pain at the end of my third trimester. I only bought pregnancy jeans with the high band, and I really recommend you buy a pair with the lower band. In my third trimester I had subluxating ribs. Having maternity jeans press on that rib was just even more uncomfortable. So while I loved the high band up until 30 weeks, I had to roll the band down at the end because I didn't want to spend more money on jeans at the end of pregnancy. Then I was prancing around awkwardly messing with my jeans like a baby learning how to walk. I pray no one witnessed it!
I also wish I had tried prenatal yoga! I got stuck in my own workout routine at the gym I shared above and then at the end of my third trimester when working out started to get really uncomfortable, I thought, "Wait! I wish I had done prenatal yoga!" haha.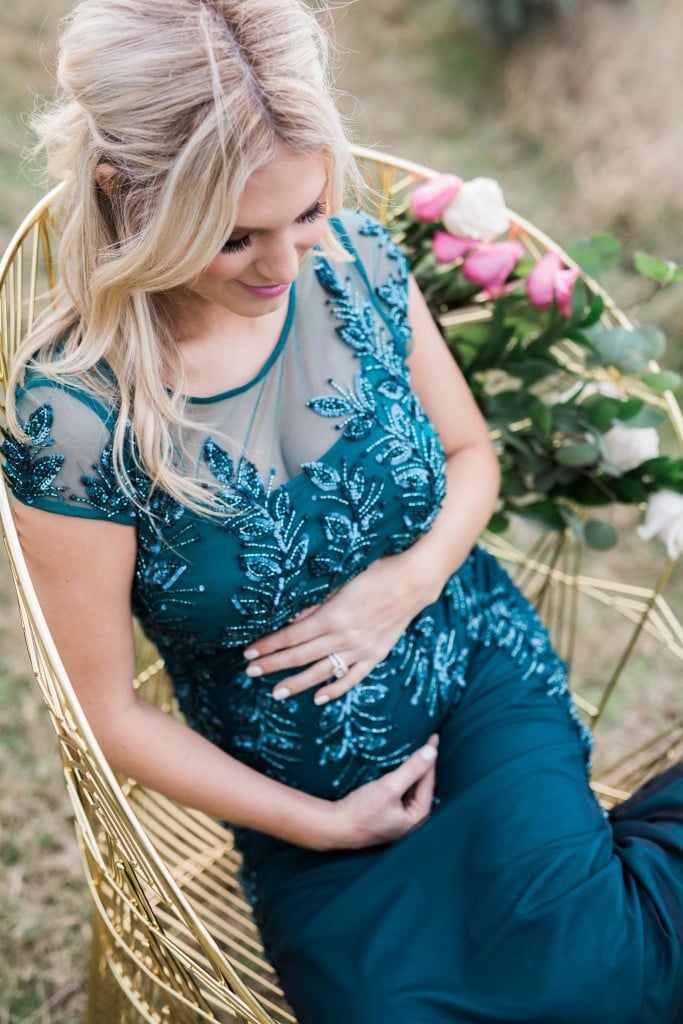 THIRD TRIMESTER: WEEKS 28-BIRTH
---
1. How I Felt
I felt great up until week 32/33! Week 32/33 was when I started to deal with my subluxating rib. Morning sickness also came back around week 35 or 36. But although physical discomfort can be at a high during third trimester, I really enjoyed all the excitement of it. Paul and I would go to dinner and I'd wonder, "Is this our last date night before baby?" We'd make little bets on when we thought I'd go into labor. And I also wrote her a lot of letters during this time. I was just incredibly sentimental and incredibly emotional during this time. Blame it on the hormones!
2. Favorite Products
With this rib ordeal I really couldn't sit up straight to work, otherwise my rib would press into my side. I got this TV tray so I could lay sideways on the couch and work and it was a life saver! It was honestly the only way I finished everything. It's also great if you have a lot of thank you notes to write and aren't too comfortable sitting at a table to finish them.
I lived in these pajamas by Eberjey.
Postpartum hair loss can be inevitable, but I wanted to make sure I wasn't contributing to it as well. I stocked up on coconut oil and was applying two hair masks a week.
Towards the end, I lived in these sneakers [because I didn't have to tie them and bend over!], leggings and this top from Nordstrom.
These were my favorite to drink when morning sickness would strike in the end.
3. What I Did
I ordered this baby book.
We finished her nursery and photographed it!
We took our classes at the hospital and installed our carseat properly.
I packed our hospital bags, here is what I put in them!
I took maternity photos.
I finished thank you notes from my baby shower.
I made nurse gifts for the hospital.
I made a basket for items to use while breastfeeding/pumping.
I didn't personally make a birth plan because my OB asks for my preferences at each appointment and then writes it down in a file for the hospital to have. However, every office is different so if you want a birth plan I would make one at this point.
I sterilized her bottles. I got this one by Tommee Tippee and it was quick and easy to use.
I washed and organized all of her clothes.
I purchased postpartum necessities like nursing pads, breastfeeding-friendly tops and blankets.
I downloaded a contraction app & feeding app.
My mom helped stock our freezer with meals. We also made sure to have a lot of drinks on hand in the fridge. We knew we'd have visitors and needed different snacks/drinks throughout the day while staying home with a newborn.
I organized and printed all my bump photos to have for looking back at different stages of pregnancy.
Our church doesn't dedicate babies, but that was really important for Paul and I. My childhood Pastor that dedicated me, baptized me and married us is retired, but we asked him if he dedicate her in a simple ceremony with family. So we started to plan and get our dates aligned.
We had a dog trainer come visit Peaches so we could help prepare her for baby. I'll do a post later on sharing what we did!
I got my address list together for birth announcements and picked the ones I wanted to use!
I nested, which was more of  a phase in which I wanted to redecorate and refresh the home! I also focused on cleaning a lot before baby arrived so I didn't have to come home a ton of laundry and dirty dishes.
We stocked up on paper products! The last thing you want to do when you get home with a baby is wash dishes or run out of paper towels.
4. Mistakes I Made
I definitely let "Pinterest guilt" get to me. I started to look up all the "lists" of things to do before you have a baby and I was really hard on myself about accomplishing everything. That's so silly! Don't even listen or try to follow my pregnancy guide. This is just what worked for me. Everyone is so different. I finally realized, "I don't need 50 freezer meals because I don't have 5 other kids and I don't live 5 hours away from our family. Paul and I both have family here, people will bring meals and I have a husband that knows how to cook. This is ridiculous." Your pregnancy to-do list will vary depending on how large your family is and your lifestyle. So don't give yourself guilt! Relax, get as many manicures as you want before baby arrives and just enjoy your time with your husband. 🙂
---
Pregnancy Blog Posts
What I Packed in my Hospital Bag
---
Common Pregnancy Questions I've Received
1. My friend is pregnant and I wanted to give her a gift to help celebrate? What do you suggest?
I may be going against the grain, but I've truly loved practical gifts during pregnancy! I got a lot of sentimental gifts geared towards baby and some necklaces with her name, which mean the world to me. After that, I've just loved anything practical! We have a place in Fort Worth called "Feastivities" where you can pick up a homemade meal and just pop it in the oven and it's finished! They'll do everything from the main course to the sides to the salad and dessert. I received a lot of gift certificates to Feastivities during pregnancy and it was amazing! I mean I just wanted to hug everyone and never let go when they gifted me these! Some days I felt amazing and like I could cook 18 meals and some days even just baking chicken made me want to vomit. Gift certificates to a restaurant or even bringing by a homemade meal is the kindest gesture.
Another thing I loved was my mom gave me gift certificates for Christmas! She got me a gift certificate to get a manicure and pedicure before baby arrived and then she got me a gift certificate for a massage after baby. She told me on my birthday she'd watch the baby while I go and get an hour massage. I thought that was the sweetest thing! I also had a friend that gave me a gift certificate to Anthropologie for after baby to refresh my wardrobe. I know gift certificates can seem really impersonal, but new moms are constantly thinking of what to get baby, so when someone allows them to shop for themselves it is a really nice treat!
2. What are some maternity clothing must haves?
Maternity clothing is really dependent upon your lifestyle! If you work in the corporate environment, of course my favorite purchases won't be yours. I'll just share my favorite basics I picked up and what I lived in.
These jeans, this dress [I got numerous colors!], these tanks from Target and these shoes!
3. What did you get Paul for his gift you mentioned in your hospital bag? 
Y'all know I'm married to an incredibly practical man that never wants anything! He was using an iPhone 4 or 5 and the picture quality was pretty poor, but he refused to upgrade because it worked. I got him an iPhone 7 as a gift so that he could take great pictures of Maxi. I knew he'd want more storage since I'd send him pictures and videos all day while he was at work.
4. How did you prepare for baby? 
There are so many different sites that will tell you a hundred and two things you should do to prepare for baby! Don't stress yourself out with a to-do list and a million books to read because we all know sometimes those lists can get out of hand. I did 5 practical things at the end of my pregnancy to prepare for her arrival:
Finished up to-do list. I finished up my own personal to-do list, made sure to send out shower thank you notes, made an updated address list for birth announcements, packed my hospital bag and washed her clothing.
I scheduled blog posts. I felt like a writing machine at the end of my pregnancy [so please excuse typos during maternity leave! 😉 ]. I tried to have a few weeks worth of content scheduled out so I could just soak up time with baby and Paul and not worry about work.
I deep cleaned our house! Paul definitely helped because by 36 weeks I couldn't even put my shoes on, so needless to say I couldn't clean baseboards.  A lot of girls will splurge on a cleaning service while they are in the hospital which I think is brilliant! I wanted to come home to a clean house after birth so I was thankful Paul was more than happy to help me clean.
I decluttered. Having a baby means baby items take over the home! I decluttered everything from my files to my pajamas because I knew we didn't need excess in our home. I'm SO glad I did this, because almost 2 weeks into having a newborn I already feel like baby items are taking over the house.
I stocked the fridge and freezer. My mom was so sweet and made all my favorite meals and stocked them in our freezer so we wouldn't have to worry about cooking once she arrived. I also made myself grocery shop religiously. I can be bad about this and let things get really low, but I knew I could go into labor at anytime after 37 weeks, so I made sure to go weekly and stock up on non-perishable items that we would need. I also stocked up on paper supplies because I didn't want to be running out of paper towels or needed to wash dishes constantly.
5. What is the best advice you received during pregnancy? 
Overall, the best advice I recieved was, "You'll know what to do." It's so easy to envision having a newborn while you're pregnant and even a toddler. You read books, you research parenting techniques, you make decisions on if you'll schedule them or live off the "no schedule" schedule. But there were moments I started to think, "What will I say when she is 17 and asks me this?" "What will I do when she is faced with this in high school?" I would ask my mom how she knew just what to do and she kept saying, "You'll just know." You are your child's mom because God knew your child needed you. Your heart will be so overwhelmed with love for a human you've never even met and you of course want to do all the right things! But pregnancy really taught me to give myself grace because I'm human and I make mistakes. I'll make mistakes parenting. And I will continue to make mistakes as our family grows. But it's a learning process and at the end of the day, you'll just know to follow your instincts and no one else's.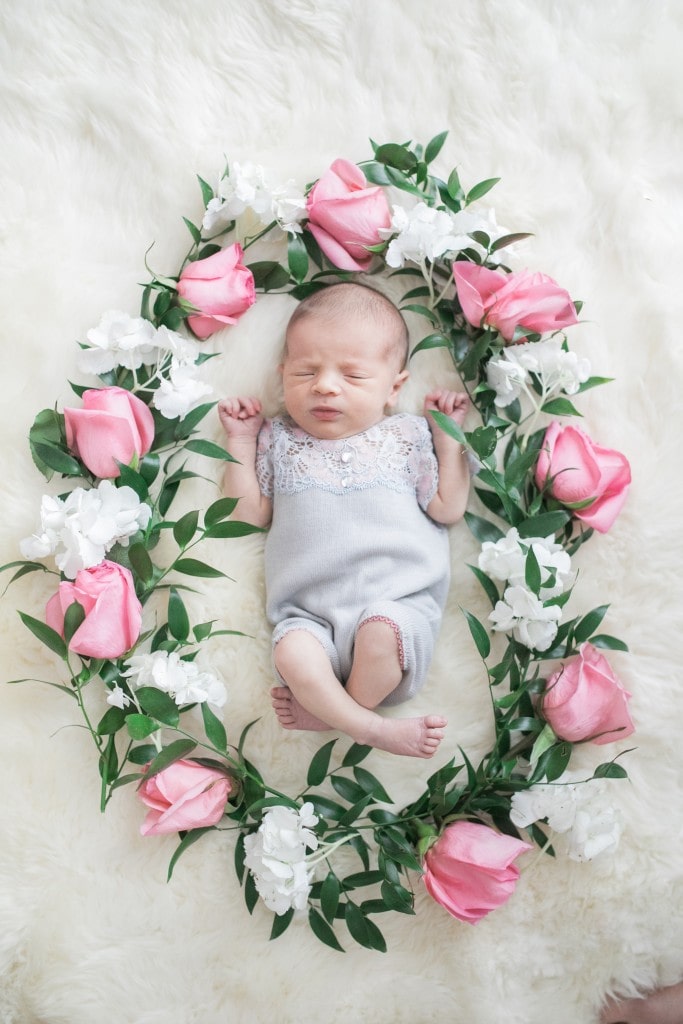 Newborn Essentials
---
I'll be sharing what newborn essentials we love and registered for, but I want to wait until Maxi is about 6 weeks old or so, in order to make sure I'm recommending the products she really enjoys! However, after having her with us for almost 2 weeks there are 5 products we seriously could not live without and I thought I would share.
1. Wipe Warmer
While registering, we didn't get a wipe warmer. A lot of my girlfriends that are moms brought up a great point! They said, "I didn't get a wipe warmer, because when we are out and about changing diapers they aren't warm. Why get them used to that?" I thought that was genius logic and I think it works well with a lot of babies. Maxi? Not so much. We are lucky *knock on wood!* she rarely cries. She just gets a little fussy and that's about it right now. However, she really hates two things and her little lungs let us know! She hates getting a bath and she hates cold wipes. When we first brought her home, she would scream so loud while changing her diaper. I felt terrible. I favored a wipe warmer from Target late one night and it was a game changer. Now she never cries when getting her diaper changed and just coos and tries to smile! This is so much better when changing her diaper at 3 a.m. because I want to keep her happy so she can go back to sleep easily.
2. Newborn AND Preemie Clothes
Another recommendation you get a lot of while pregnant is: "Don't get too many newborn outfits! They grow out of them so fast!" I took that advice a little too literally. We got home from the hospital and she really only had a few newborn pajamas and those were huge on her! Before her first pediatrician appointment I had to change her 7 times because NOTHING fit. The day after we were home I sent Paul out to get some more newborn outfits and we even had to get preemie clothes. If you can, I recommend getting one preemie outfit because if they are 7 pounds or under, chances are they will wear that! The owner of one of my favorite baby boutiques in Fort Worth [Baby By Design] was telling me her son wore newborn until he was 8 weeks and he was around Maxi's size. So definitely keep in mind they could wear these for some time and we change her roughly 2-3 times a day just due to feeding and diapers.
3. DockATot
I shared in one of my bumpdate posts I was really on the fence about getting the DockATot. We don't co-sleep with her, so I wasn't sure if this was worth it for snuggling on the couch with her, etc. A girlfriend recommended us go ahead and get it. Thank God we did! It calms her down SO quickly! If she is upset or stressed we put her in it in her bassinet and she stops being upset within a minute or so. It just makes her feel more secure and content. The first two nights at home she had her days and nights mixed up and we didn't even think to pull out her DockATot to help her fall asleep. After 48 hours of NO sleep, I called my girlfriend Kate and she told me to use it and it fixed her days and nights issue!
This is the swaddle the hospital sent us home with and we've already ordered more! She doesn't like any other sleeper swaddles at the moment and she loves the Halo. She sleeps with her hands touching her face and this swaddle easily allows her hands to be out so she can comfort herself when her little sleep cycles break. It's the cutest thing, I hear her squirm, so I'll wake up and go to pick her up and she just puts her hands on her checks and falls right back asleep.
5. Honest Lactation Plus Supplements
I'll be honest and say, I was so ignorant to how nervous I would be about her feedings. My mom was able to breastfeed me with no issues and my sister was 7 weeks premature so she couldn't breastfeed and I'd gotten to hear her experiences with both. I took an online class, but that was very basic. I had no idea I would worry so much! In the beginning I worried she wasn't eating enough. Then if she spit up I worried I fed her too much. I'd worry she was sleeping through a feeding. I worried she hated being fed in a certain position. I knew to go off her number of diapers [which she always was meeting] but still, as a new mom you just want to make sure you're giving them what they need whether that is the right formula or supplying enough breastmilk. I met with two lactation consultants in the hospital and they were great! They helped me be at ease and approved these supplements for me to take. I take them each night with my prenatal vitamin and thankfully, I haven't had supply issues yet! I'm not sure if it is because of these vitamins or not, but the consultants said these were wonderful so I thought I'd suggest them so you can ask your lactation consultant!
It's so easy to be a bundle of nerves during pregnancy, I know I was being a first-time mom! But my unsolicited advice is to follow YOUR gut. 😉 You are their mom because you know best how to care for them! I hope you enjoy this incredible experience and that you have a healthy, happy and comfortable pregnancy! Thank you so much for reading!